Writer: Hope Larson
Artist: Chris Wildgoose
In Batgirl #7 "Son of Penguin, Part One" Babs has officially landed back in Burnside and found it quite different than when she left. It's an incredibly strong issue that makes me wonder why I ever criticized her return home in the first place. Obviously, she had to stop the globetrotting and come back at some point. Amazingly, this doesn't feel like a different series in the transition from one kind of structure into a more traditional one. It all actually feels natural.
Part of that is due to the fact that it plays up Barbara's alienation with returning home. The Burnside she comes back to is different than the one she left. She feels out of place and that's a smart way to reintroduce readers to this setting. There's a bit of catchup with her old gang, kind of signaling that we might not be seeing as much of them as we did in the previous series. If this issue is anything to go by, she won't have a roommate anymore and the newlyweds are spending most of their time with each other.
I'm curious if this will be a Buffy situation where the ongoing story is about the gang coming back together, or if it means this will signify a change-up in the supporting cast. On that one, it looks like time will tell.
We are introduced to a major new character, though, in the form of Edward Cobblepot, the self-proclaimed son of The Penguin. I'm sure he probably is who he claims to be, but the fact that Barbara questions this and that nobody's ever heard of him makes it interesting. Either way, he's an important addition to the Batman mythos, being the son of one of the seminal villains.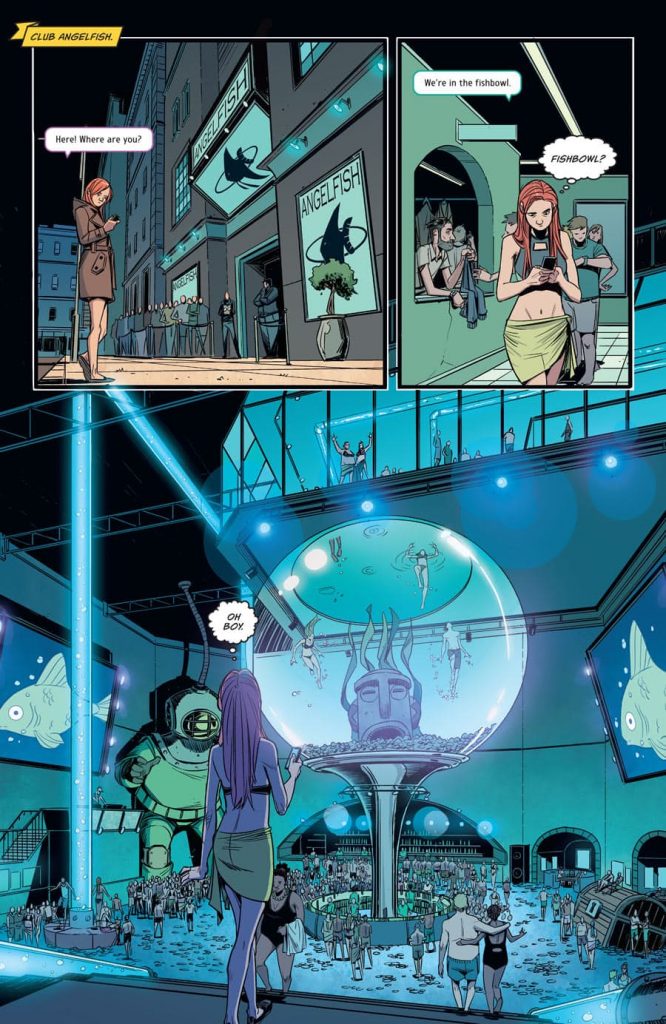 If he does turn out to be a villain, which is probably the case, it will be interesting to see how that plays out. Already, Edward has proven to be far more suave than his father. That could create some tension, because Oswald Cobblepot has always fancied himself a member of high society, but has totally failed at it. If his son can prove to be better at those things, that's bound to create some jealousy.
Speaking of jealousy, she calls Dick to talk to him about it, asks him whether or not he ever heard of the Penguin having kids and makes sure to mention that she's going on a date with him. I get that they're friends, but it feels like Batman might have been the guy to go to on this one.
The art by Chris Wildgoose keeps up the distinct visual style of the series. For the most part, it goes for that loosely defined area of feeling like an indie book with a peppering of superheroic action throughout. Wildgoose mostly gets to draw character interactions, all of which are strong. The heroic moments are fewer, but appropriately dynamic.
The Penguin's son is a very strange romantic interest for Batgirl, but the issue is strong regardless. It's also a surprisingly effective starting point if you're debating giving this series a try.