Writer: Joshua Williamson
Artist: Jason Fabok
League vs. Squad
The Suicide Squad are hot on a mission to steal from someone worse than them. It seems like an earthquake device is in the wrong hands, and Amanda Waller's evil band of villains are ready to intercept. Meanwhile, the Justice League is hovering above the earth in the Watchtower, and Batman informs the team about Waller's Task Force X, which immediately puts the League on alert. They journey down to Badnhisia, coming face-to-face/fist-to-fist, with the Squad. While it's good vs. bad, the true evil threat has assembled, ready to take down anyone who gets in their way.
Main point: Justice League vs. Suicide Squad works. In what could have been a cluttered, jumping mess is actually a focused, character-establishing piece of fun. Writer Joshua Williamson handled his story beats to perfection. He introduces our heroes and anti-heroes while bookending with the oncoming threat. What he's done well is lay the groundwork of getting the Justice League and Suicide Squad together. It makes sense that they fight, while also making us empathize with each side.
Story is always key, but art may take top billing in comic books. I haven't looked at a book by Jason Fabok that I haven't loved. This guy is the next, if not already, top artist for DC. The look of these characters stand on their own, but are true to their history. If you don't know who some of them are, don't worry. There is text that identifies each character in the book.
Overall, what a great start for Rebirth's first crossover story. There's perfect character introductions, world building, buildup and of course action. The good news is we don't know what to expect but only have to wait a week to find out.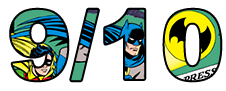 Images courtesy of DC Entertainment